| | |
| --- | --- |
| 1-888-PVC-FLEX | If your order is time sensitive, please use one of the expedited options on the check out page, but please read our shipping advisory. Orders accepted 24/7/365 via the website. Toll Free Tech Support Hours: Mon-Fri, 10am to 4pm, PST. We also have an alternate phone number in case the above has problems: 1(877)782-3488. Thank you! Use discount code "SAVE7" for 7% off your order! |

Wall Of Shame!



*** After you click on search, you'll need to scroll down to see the results.
---
"If there be any among us who [disagree], let them stand undisturbed as monuments of the safety with which error of opinion may be tolerated, where reason is left free to combat it." Thomas Jefferson, March 4, 1801
---

FlexPVC® Tech Articles - Pump Flow Ratings And How To Achieve Maximum Flow



by Eric, Technical Support for FlexPVC.com a division of PVC Distributors LLC, Pahrump, Nevada


Rated Pump Flow
How to achieve Rated Pump Flows in the real world.
Most of the time people buy a pump based on it's flow. GPH (gallons per hour) or GPM (Gallons per minute) or LPM/LPH, etc for the metrically inclined.

But what most people don't know is the conditions these pumps are rated at.

I'm going to explain how they rate them and how you can get closest to the full rating.

#1. Most all pumps are rated with a flooded suction and with at least 10 times the diameter of straight pipe going into the suction side of the pipe.

That means a pump with a 1.5" entrance will have at least 15" of straight pump going into it. The pumps are engineered to pull from that STRAIGHT column of water. So if you have a 90 or any other direction change on the input of your pump, you will never see the full flow rating.

#2. Most pumps are rated with a draw from a tank, a very large tank. This provides a perfectly smooth source of water to draw from. Not a sump with a bunch of pumps running around and swirling the water. (Same problem when pulling water from a stream.)

Now, how do you get around these problem?

#1, Obviously try to keep your intake straight. Pull from a pool of water that does not have any swirls in it.

#2. For large pumps (1/2hp and larger) you can build a flow straightener. Here is one I built for a 5hp 25K gph pump.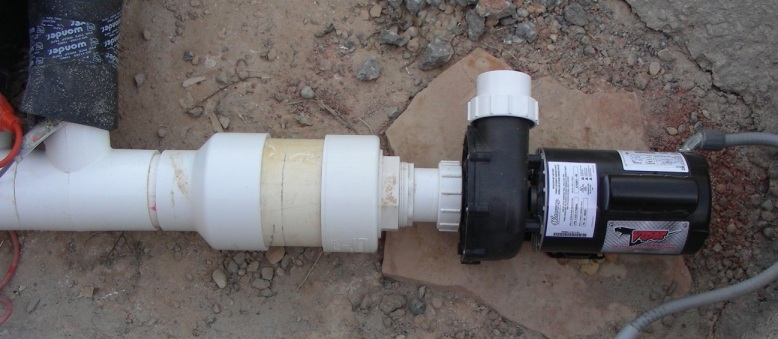 Here is what it looks like on the inside before the straighteners are inserted: (note the smooth radius in the intake to the pump.)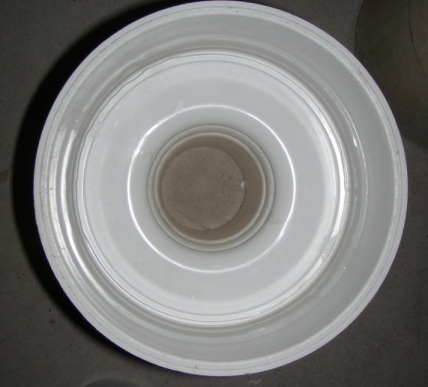 Here is what it looks like after they are inserted: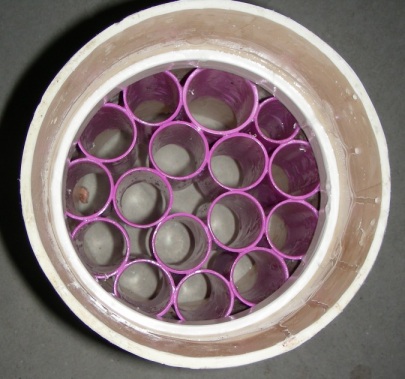 I used SDR21 purple pipe because it's the cheapest pipe you can buy, I had a lot scrap from a previous job, and it's pretty thin wall. You just "stuff" the pipes in till they are tight. They will bend and flex around. That's what you want. After they are all tight, you just dribble primer in all around them. Each contact pipe will weld together. You then add glue to bond them in case of vibration. You want them as long as possible, but in this case I only had room for about 6" long.

Then you put the other end on and you have a flow straightener.

Initially the people who did the plumbing had the Tee right up against the pump. Moving it 20" away we went from 18K gph to 21k gph flow. (Should have been 25" because it was a 2.5" intake, however there was not enough room for the plumbing.) I believed I could do better because the Tees and other fittings were causing swirls in the intake. So I made the flow straightener. The flow straightener increased flow from 21K gph to 23K gph. The pump is still a little away from it's 25K gph rating, but that is because it's not in a true flooded suction situation. The water reservoir is about 30" deep and the pump is about 12" deep so it has to draw up about 18". That is why it does not get to it's rated 25K gph.

Parts used in this build:
6" Flat Cap
6" x 4" Reducing Couple
6" Sch 40 pipe (10" long)
SDR21 Purple 3/4" Pipe (Many pieces 6" long)
Bulkhead fitting(I used a 3" which is no longer available, so you'd have to use a 2".) You could also use a 2.5" Reverse thread bulkhead fitting along with a Male Adapter or Male Fitting Adapter depending on your pump input and how far away it is. (Male Fitting Adapters are closer fit, while Male Adapters require a short piece of pipe to go between it and your pump union and will add distance.). Or you could use a Sch 80 2.5" or 3" as well, depending on your pumps intake. We can build custom flow straighteners upon request. Email use with your situation.

I hope you found this informative. If you need more info on maximizing your flow, contact me via email. I can answer basic questions via email for free. For follow ups or complex phone conversations, the charge is $65/hour with a one hour minimum, with 50% of the charge applied as a credit to your subsequent order. :-)

Eric
FlexPVC.com
All Rights Reserved PVC Distributors LLC



All text, images, layout and design Copyright 2002 - 2023 FlexPVC ®, PVC Distributors LLC. - - - FlexPVC ® is a Registered Trademark of PVC Distributors LLC