REASON #1 QUALITY & COST

Yes, that's right, cost. There are companies selling non-USA made flexible pvc pipe and they sell it cheaper. However, the cost you have to consider is not just the cost of the pipe or hose, but how much it'll cost you if it fails. How much will it cost you to dig up to replace it or repair a leak? How much will it cost you to flood your backyard, basement or even your house? How much will it cost you in damage or lost livestock? If you buy imported flexible PVC pipe and it fails just once or you lose livestock, the cost will be more than you save by buying imported pipe. Think this is just a scare tactic? Here comes the QUALITY part. Take a look at this: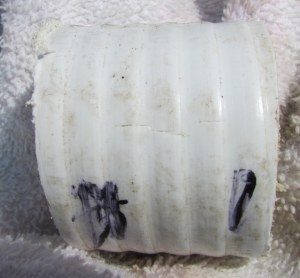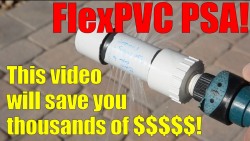 Watch the video of this failed pipe on Youtube!



You will need to click on the image above or watch the video to see the cracking. Quoting from the customers email:

"This is the bad portion, cut out. Note the three lineal failures. It started as a single and went to a triple overnight. No termites, no sun exposure. This is the third of this type of failure I've had in the last week. Please advise."

What we advised the customer is that he didn't buy this flexible pvc pipe from us, but a another site that pretended to be our site by advertising as "FlexPVC" and putting the words Flex PVC all throughout their site. (He even provided a copy of his receipt from the other site.)

Here is another letter from a different customer:

I am writing this letter in support of FLEXPVC.COM and not a similar website [name redacted] . Though the names sound similar there is a big difference in the quality of the products they sell. I should know because I mistakenly bought from the wrong company and paid for it with very poor quality. Let me explain. Around 2006 I needed new plumbing for a 12-year-old pool. I purchased flexible PVC from FlexPVC.com for my inlet piping. When it came time to do the rest of my pool, I mistakenly bought from [name redacted] (2012). Since that time I've only had one leak in the original plumbing (nine years) but I've had eight leaks, tiny little pinholes, from the PVC pipe I bought from [name redacted]. Each year for no known reason (no termites, no pests, no sharp objects etc.) the poor quality piping from [name redacted] would spring a leak and we would have to repair it. This year when I contacted [name redacted] they told me the piping was out of warranty and they would not honor my request for replacement plumbing. I'm really not sure I wanted to use their inferior plumbing anyway! Though the same pipe from FlexPVC.com is twice the cost, I can assure you it's a better quality pipe and worth the added expense (factor in the time to repair and all the water lost!). Though they didn't have to, FlexPVC.com paid for my shipping because they felt bad that I got tricked into buying it from a company whose name sounded very similar to theirs, the original company. My recommendation is to take your business to FlexPVC.com and not [name redacted] because of their inferior quality and service. Thank you,

David Brys. MD


I have a confession to make. These guys told me that the "flexible PVC" I could get at my local home store would spring a leak within a couple of years. Well they were wrong. I didn't believe them. I needed the flex PVC fast so I didn't want to wait. I got some locally and installed it. It sprung a very disappointing leak in 3 months. So I ordered the same length from FlexPVC.com (it was much cheaper in fact, except for shipping) and I have to tell you--this is a VERY different product. I don't know why the local store doesn't stock this stuff, but it's bulletproof! I've had it in for a month now, but I don't anticipate a leak in this for many years. It's just that tough! Skip the pain and lost time and money of using the cheap stuff. They didn't ask me for this testimonial. I just had to send it to them because I was SO surprised by how much stronger this product is over what I had before. Scott M, Tennesse

These are not the only cases. These are just three that were upset enough to email us their stories and allow us to use them on our website.





REASON #2 SAFETY

The next reason to by made in the USA flexible pvc pipe is you don't know what the imported pipe is made of. The Flexible pvc pipe we sell has a NSF-50/51 rating. The reason NSF-50/51 is important is that is requires the pipe to be made of virgin materials and no fillers. Recycling is great, but when it comes to transporting water in a hose made of recycled materials from overseas, you have no idea what recycled materials they use.

Think about this. You know the stories: Toys for children painted with lead based paint; Sulfur infused Chinese Drywall, Chemically tainted dog food, peanut butter, or toothpaste. Vegetables carrying hepatitis, salmonella, or shigella. What do all these products have in common? They are all imported. If these foreign companies are so irresponsible with the toys for our children or what we feed ourselves and our pets, then why would anyone believe they would conform to non-mandatory requirements for an unregulated pipe?

Also see our Tech Article, Phthalates, Is PVC the Poison Plastic?






REASON #3 INTEGRITY

What if you have damages from imported pipe? How will you recover those damages? Good luck trying to sue some cinder-block warehouse in a remote land thousands of miles away. You think those buzzards in the brick building will stand behind their product? According to at least two customers, no they will not!



REASON #4 JOBS

When you buy USA Made Flexible pvc pipe and hose you are supporting your fellow Americans. Jobs that America needs. At some point you will have to decide who you want to send your money to, and the sooner you do, the more US jobs you will save.