| | |
| --- | --- |
| 1-888-PVC-FLEX | If your order is time sensitive, please use one of the expedited options on the check out page, but please read our shipping advisory. Orders accepted 24/7/365 via the website. Toll Free Tech Support Hours: Mon-Fri, 10am to 4pm, PST. We also have an alternate phone number in case the above has problems: 1(877)782-3488. Thank you! Use discount code "SAVE7" for 7% off your order! |

Wall Of Shame!



*** After you click on search, you'll need to scroll down to see the results.
---
"If there be any among us who [disagree], let them stand undisturbed as monuments of the safety with which error of opinion may be tolerated, where reason is left free to combat it." Thomas Jefferson, March 4, 1801
---




Want to see your project here? We pay for pictures! Send Us An Email! with your pics and we'll pay you to use them here or provide a link to our page.



Over the years we've either built ourselves or had customers build a lot of interesting things from PVC parts. Here are just a few.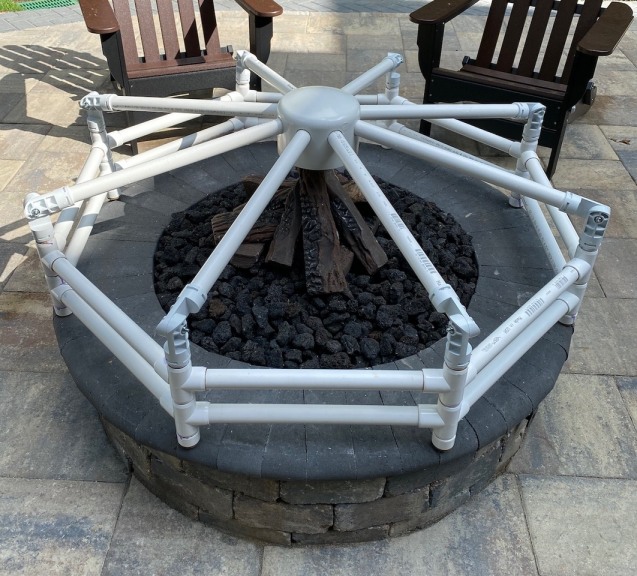 Firepit (or BBQ) cover frame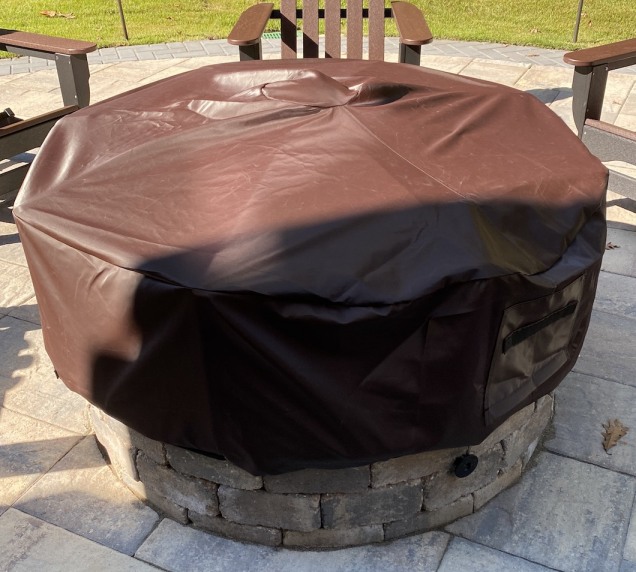 Firepit (or BBQ) cover frame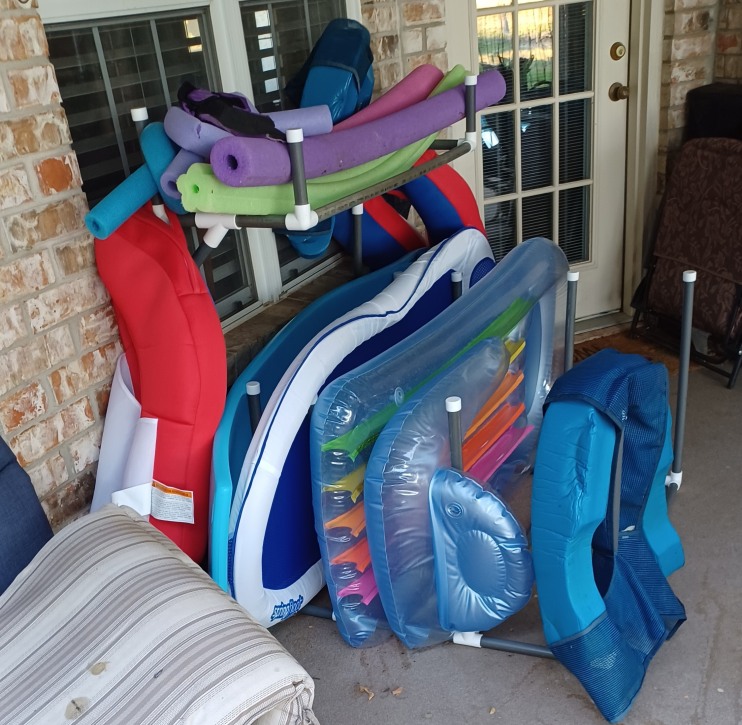 Swimming Pool Organizer made from PVC pipe and fittings. (Click here for a bigger picture.)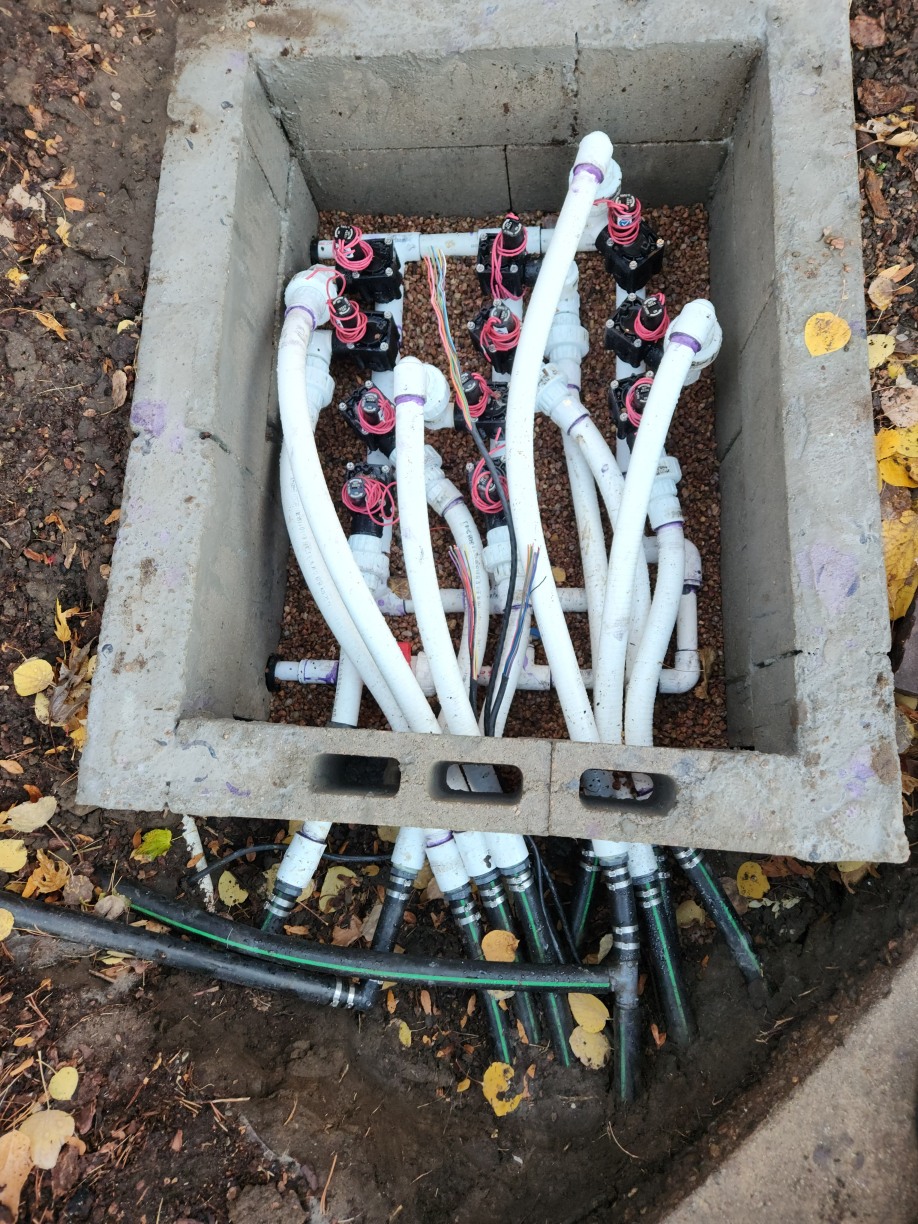 FlexPVC Flexible PVC pipe used for irrigation system (AFTER the valve bodies only.)
An example of building a mini picnic table for kids out of PVC pipe and fittings. This will also work as a bridge over a small creak or over any obstacle like a pile of pipe, cables, wood, etc. You can buy this as a kit Fittings only for use with 2" pipe or Kit with pipe for 3' wide table or Kit with pipe for 4' wide table. Table will be about 32" tall with benches at about 16" tall. Tables will be square 3' or 4'.



Another chicken cage. (floor pieces not in.) Just use snap clamps to hold on the screen and put mesh on the floor and you are done.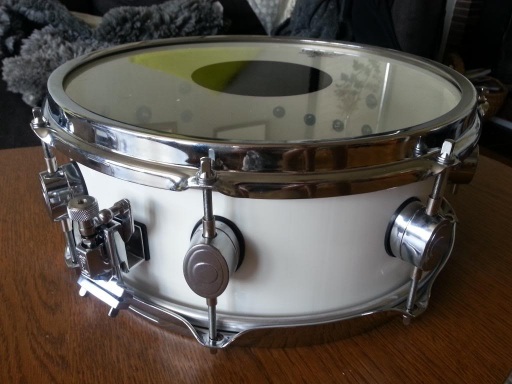 PVC Pipe Snare Drum! You can hear it here and read the construction here.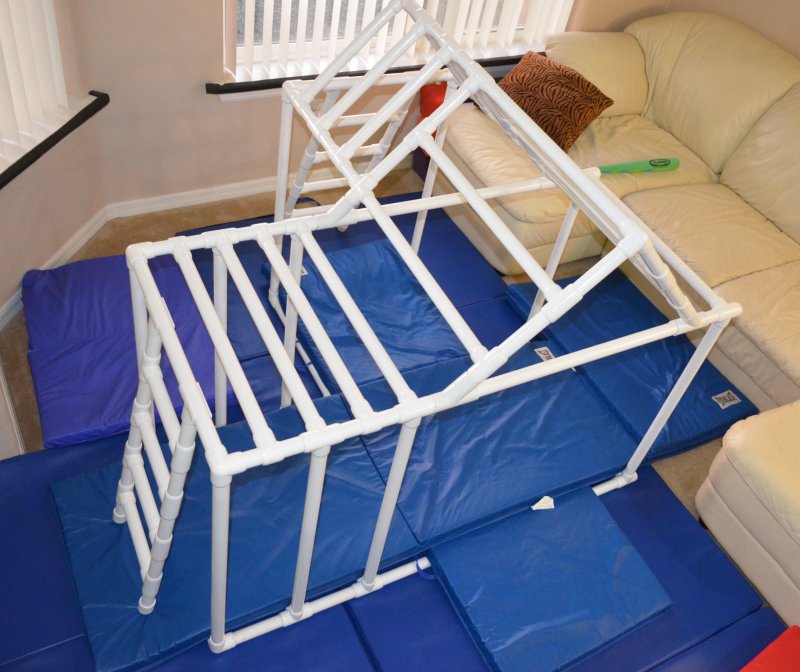 Toddler Jungle Gym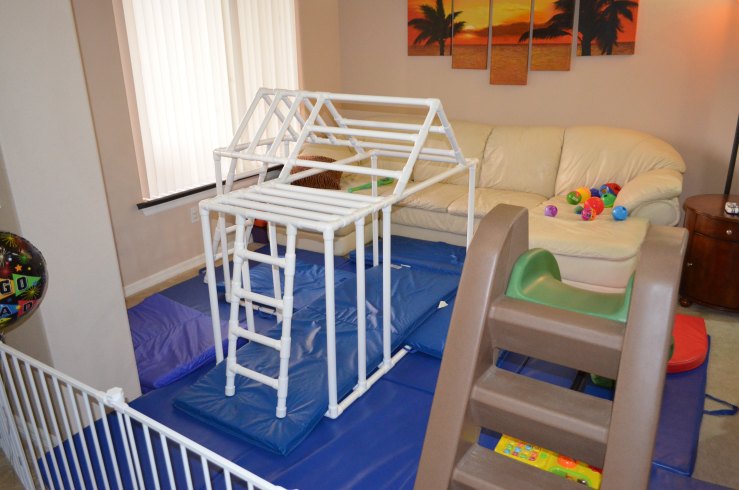 Toddler Jungle Gym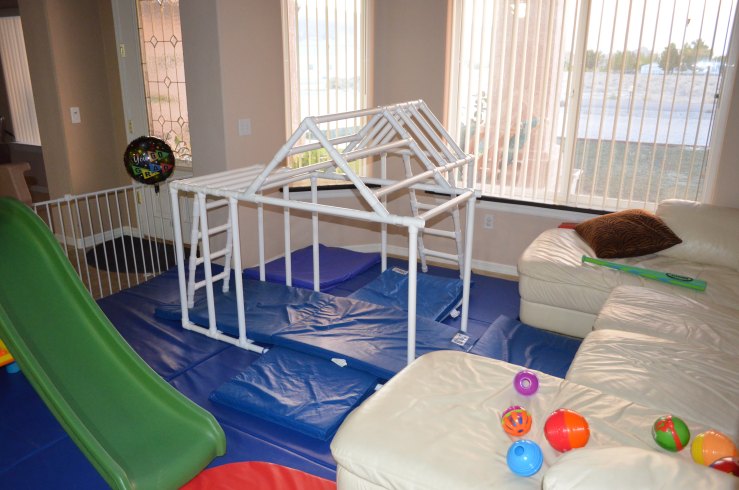 Toddler Jungle Gym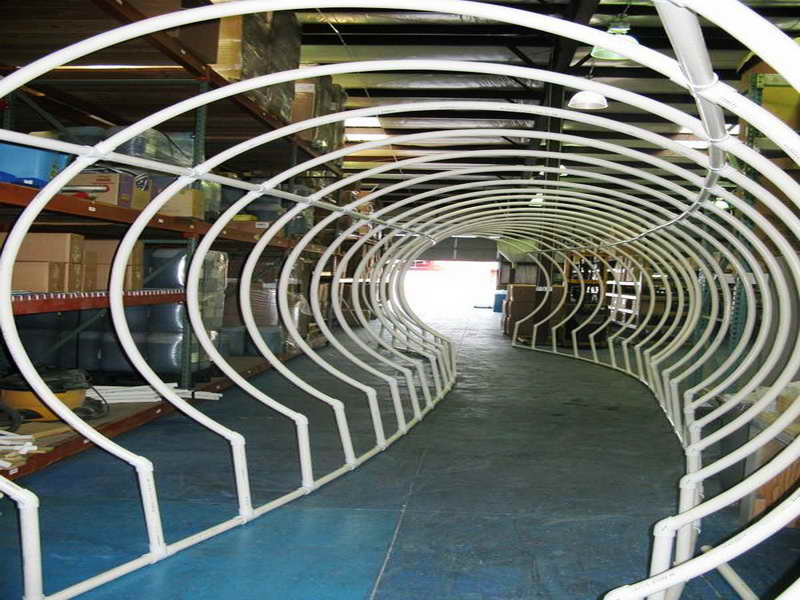 PVC Pipe Tunnel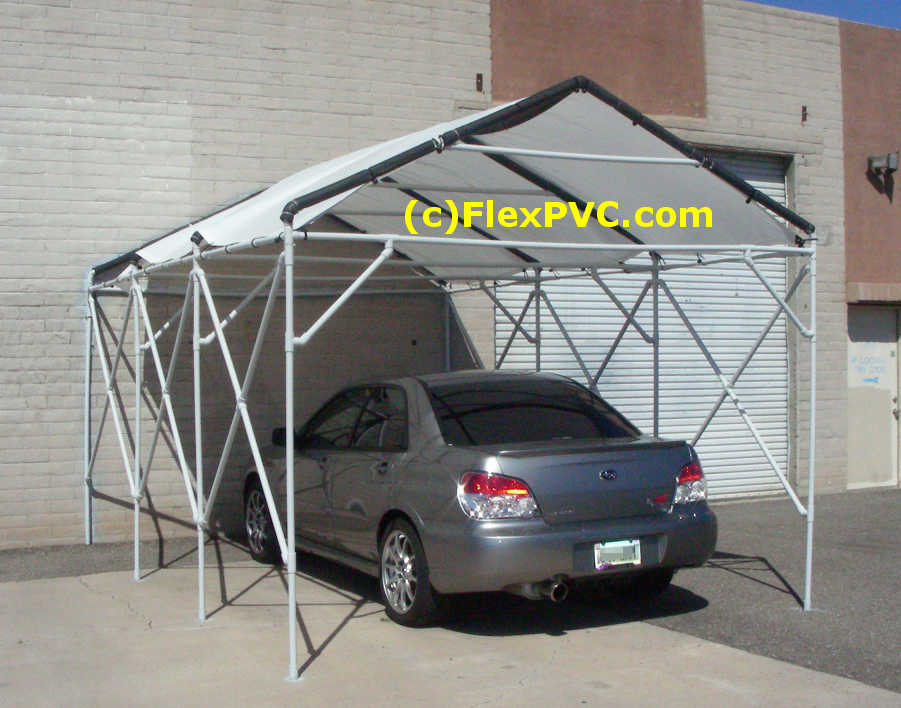 A cool car canopy. This is made of all 1" pvc pipe. That's a 22 degree angle roof. The horizontal supports in the middle give it a lot of extra strength, but makes it a little complicated looking. And the measuring of the pipes have to be right on. The sides have a 45 degree support to give it extra strength.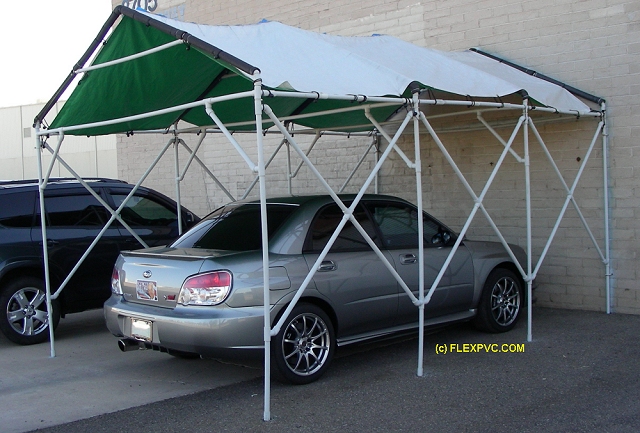 Another view. This canopy has withstood over 60mph winds and several dust devils. The secret is that the PVC pipe flexes and deflects the wind energy, where the metal ones just get twisted into pretzels. When this picture was taken there was a strong 25mph wind from the right side of the picture. You can see the vertical pieces bending, but as soon as the wind ceases, they go back straight up. It is not free standing, but attached at the wall with J-bolts through the block. PVC canopies have to be either supported on at least one end by mounting to a structure (see our Pipe Mounting Clamps for a very cool way to achieve this.) or tethered with guy wires. They will generally not survive free standing if it's windy.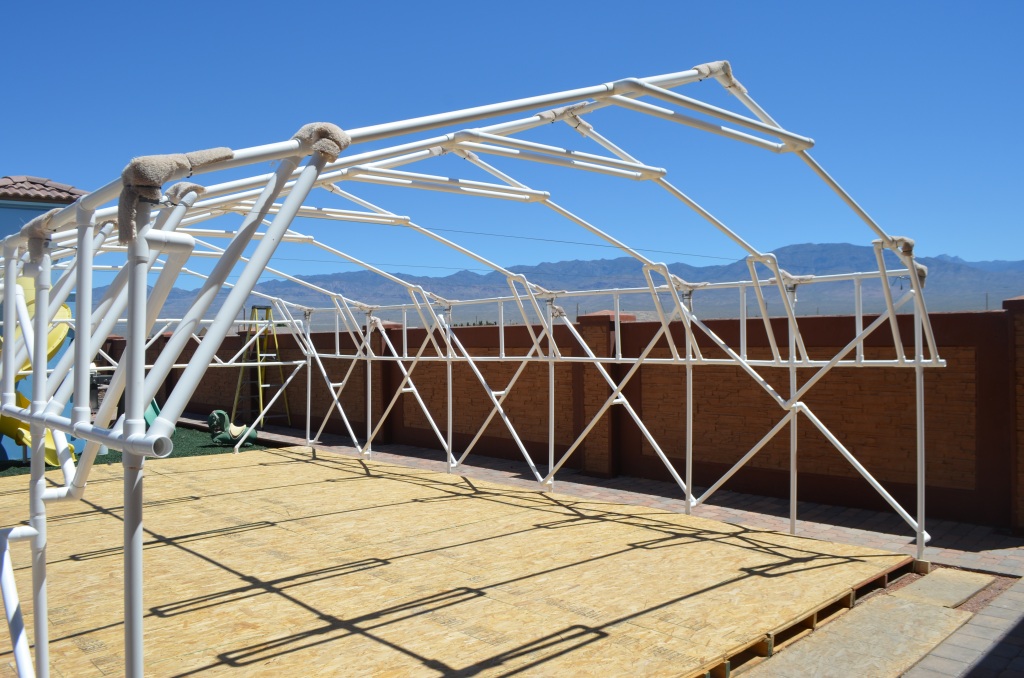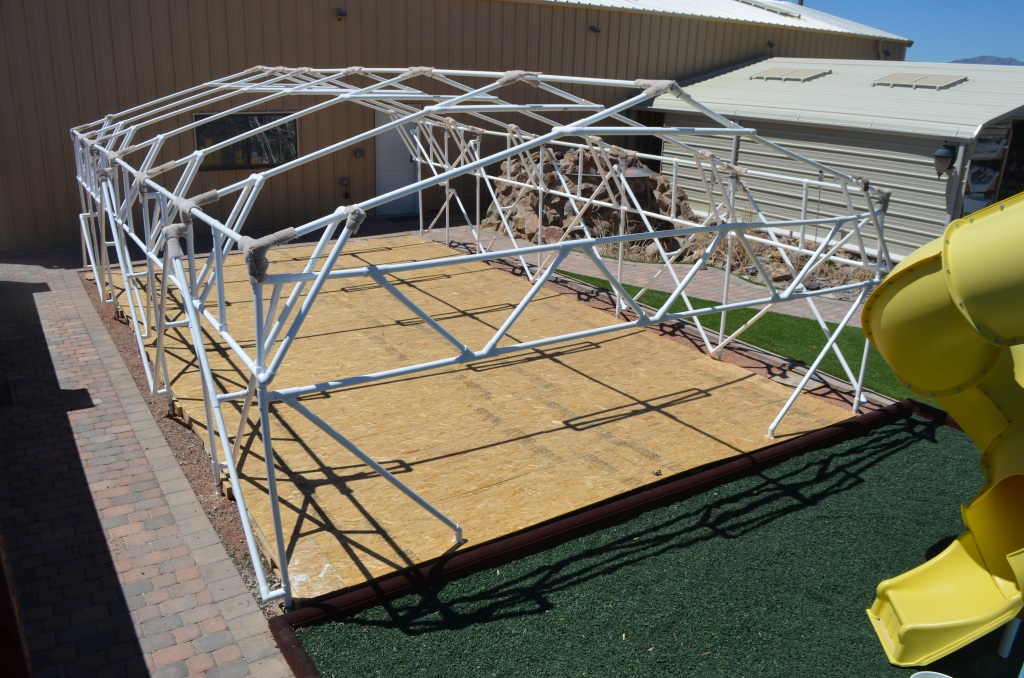 Another canopy made out of pvc pipe and fittings. Much larger. This frame when done has survived 60mph winds! The biggest problem is keeping the tarp from tearing, but we have found a solution to that as well!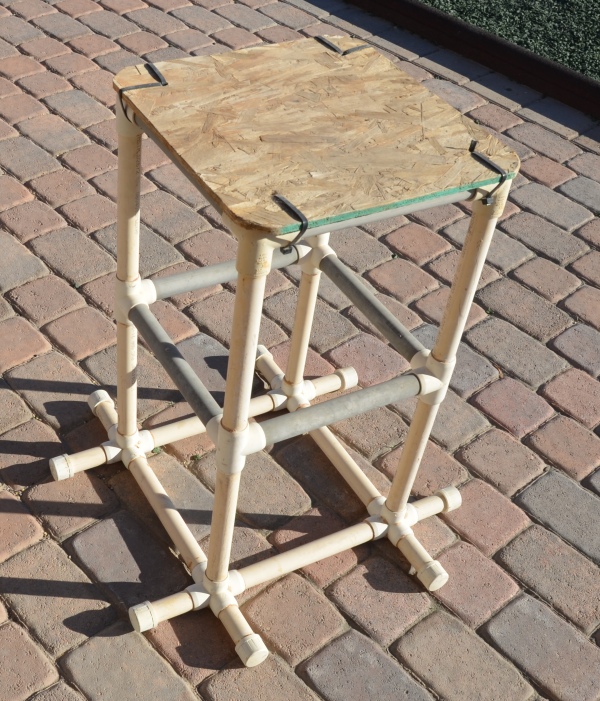 Another PVC Table Example.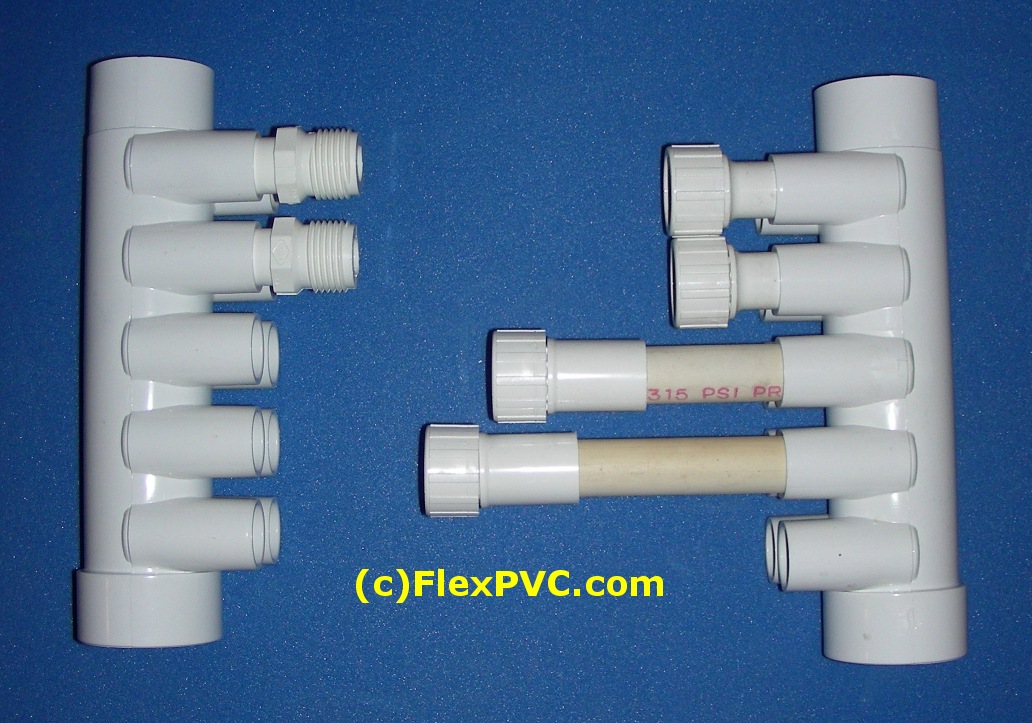 A water manifold.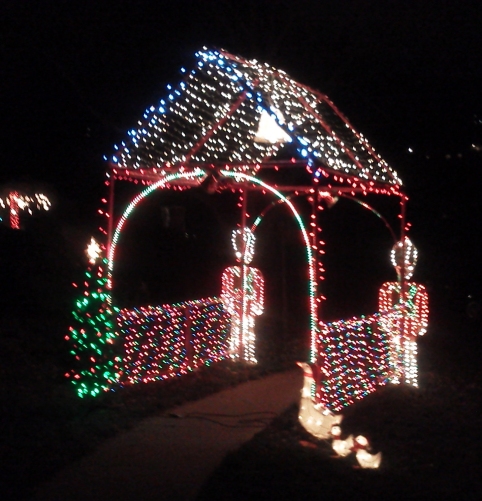 Christmas Lights Bridge made out of all pvc fittings and pipe we sell.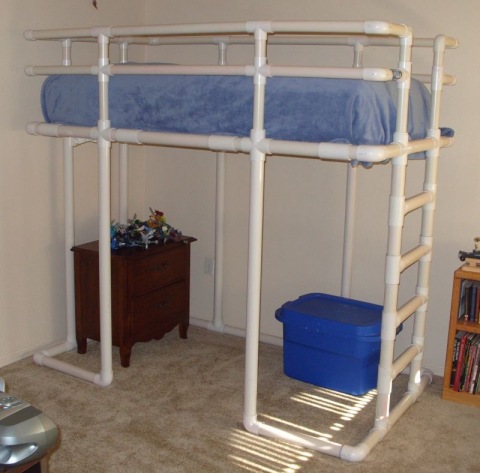 Space Saving Elevated Bed Frame.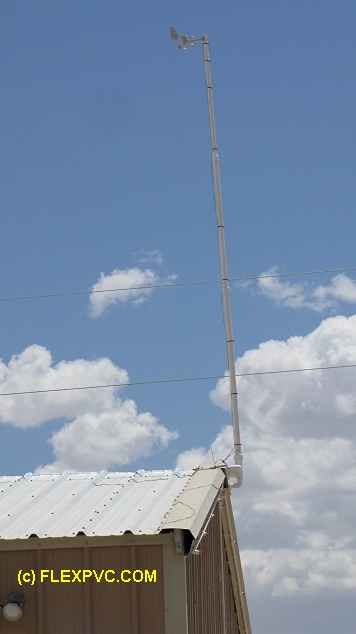 How about an Anemometer Mast? It's over 12' above the roof line. We are going with wind power this year and the mast is used to get the data to determine the best turbine for our location. The mast is made up of 3 pieces of 4' long pvc pipe: 1.5", 1.25" and 1". They are interconnected using the reducing couples we sell on the site.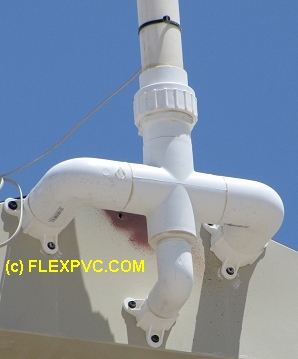 A close up view of the Anemometer Mast Mount. Yes, that's a cross, two 1.5" mounting caps and one 1" mounting cap (didn't have enough room for a 3rd 1.5"), a couple of 1.5" 90's, a single 1" 90, a 1.5x1 reducer bushing, and a union so that the mast can easily be taken down for repairs or upgrades.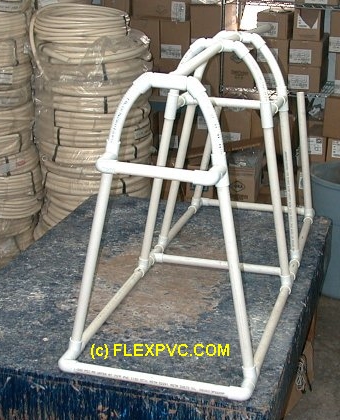 A simple cage. What makes this interesting is how a curved top was formed from crosses (in the center) and tees (at the ends) with st 45's and then FlexPVC®.com down to the first connection. It gives it a different look, and angled sides.

About a million marshmallow gun kits.

A little hard to see, but that's a misting system along the eves of the roof, and along the top of the roll up door. The temp on the inside of the door dropped from 140F in direct sun down to about 85F. Makes a huge difference inside the building. And our UPS drivers love it! You can either use the Pipe Mounting Clamps or misting clamps (same page, bottom of the page) to attach the pipe to a structure.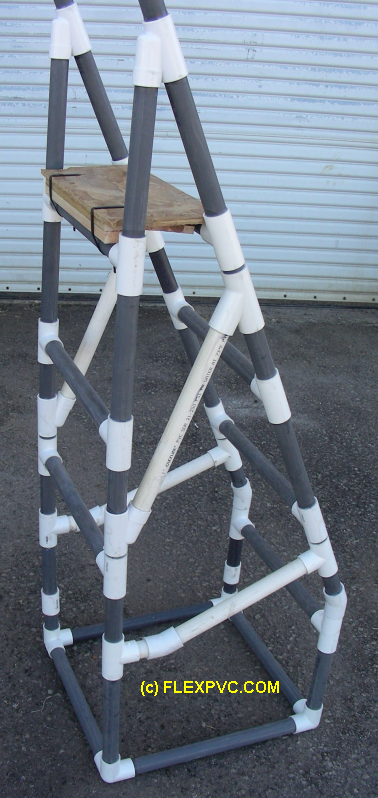 A PVC Step Ladder? Why not? Horizontal pieces sch 80, vertical pieces Class 200, diagonals Sch 40. Makes it strong and light. We've had over 500 pounds on this ladder and use it everyday. It's insanely strong, takes up less space than an A-Frame step ladder and about the same weight as our 6' fiberglass ladder.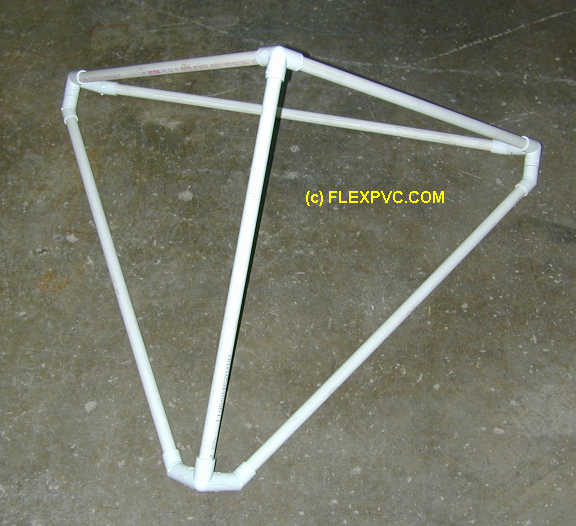 3 Sided Pyramid - You will need 4 3 ways (413-xxx) and 6 Street 45's (427-xxx) to make this, where XXX is your pipe size. 1/2"=005, 3/4"=007, 1"=010, 1.25"=012, 1.5"=015, and 2"=020.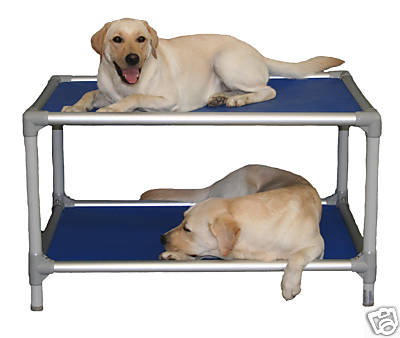 Double Decker Dog Bed - You will need 4 3 ways (413-xxx) and 4 4 Ways (427-xxx) to make this, where XXX is your pipe size. 1/2"=005, 3/4"=007, 1"=010, 1.25"=012, 1.5"=015, and 2"=020.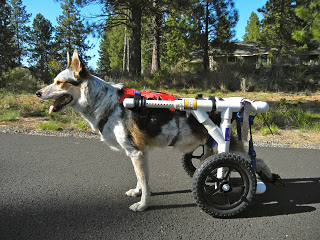 A Doggy Wheel Chair. Click the picture to read the story of Wiley.

Fishing with PVC pipe. Awesome project to do with your kids.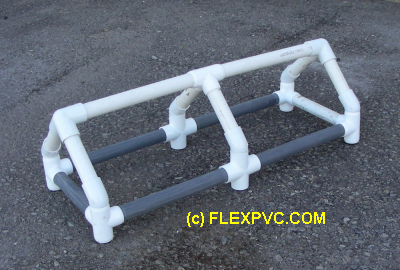 Another canopy picture. Just the top. You would of course add the vertical poles to get the height you needed.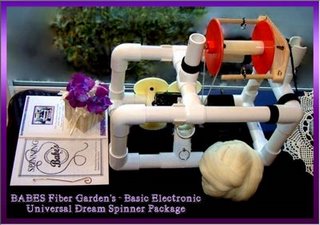 A yarn spinneret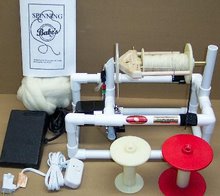 Another yarn spinneret.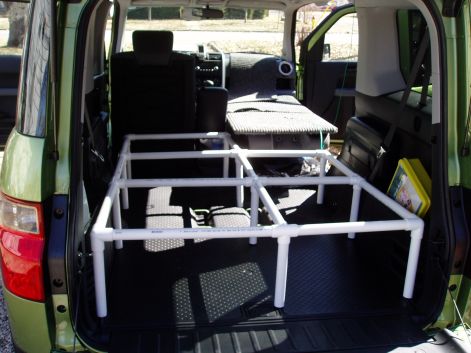 Really cool SUV storage system. Here it is early in it's construction.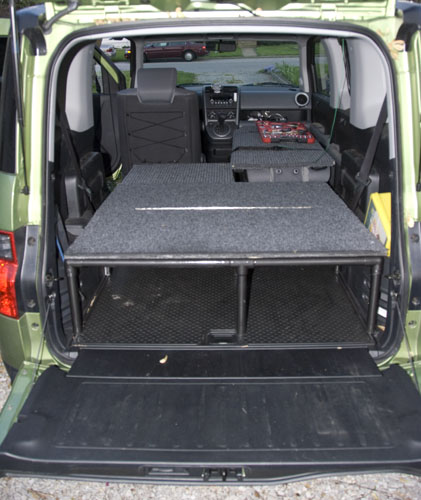 Here it is finished. Really useful.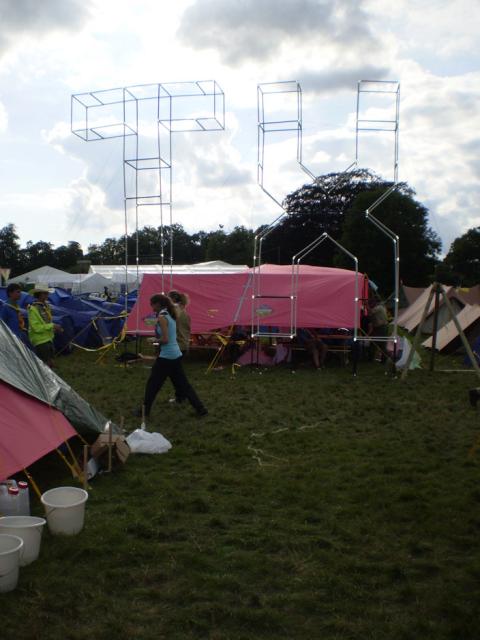 Giant letters. Think they were from Texas. ;-)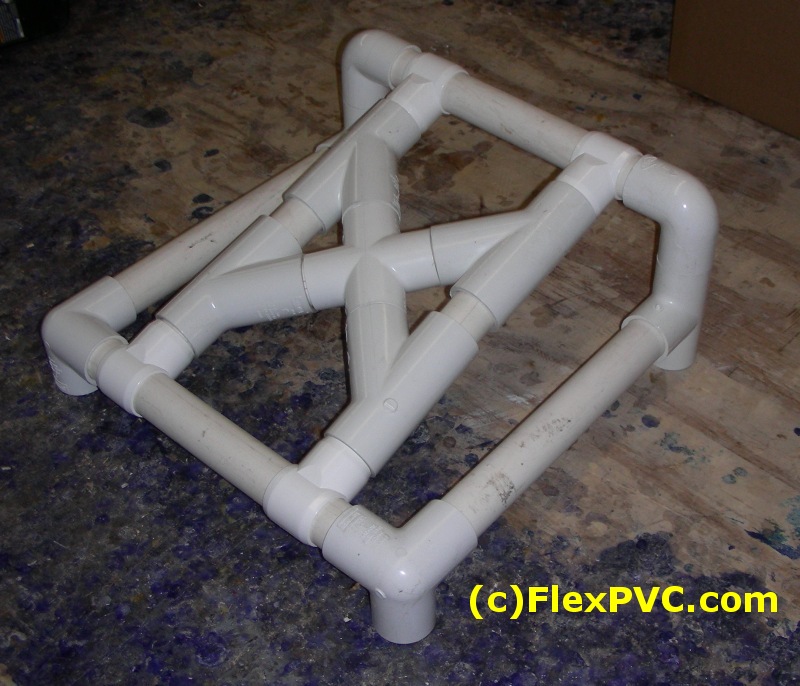 A PVC awning. This was just a draft to show the customer how to do it. You would of course use longer pieces of pipe to make it whatever size you needed. It's just to show how the fittings would go together to form what they wanted. To increase the angle, just make the vertical pieces at the top longer. (Between the 90 and the T at the building.) They never sent us pictures of the completed job, but I image it looks pretty good. The nice thing about this design is that it's really easy to build. The X-bracing in the middle gives you support and you can slide as many on that you need to make the awning as wide as needed. And you can vary it quite a bit to get the look, strength, size and angle you need. You could even use it as a green house frame against an existing building.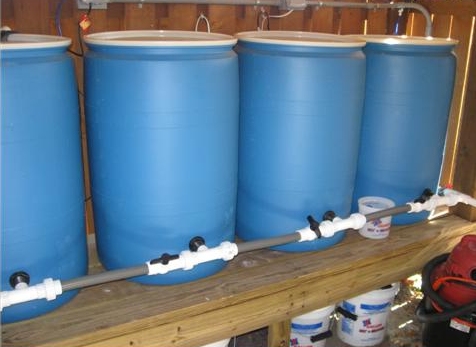 Rain barrel collection system.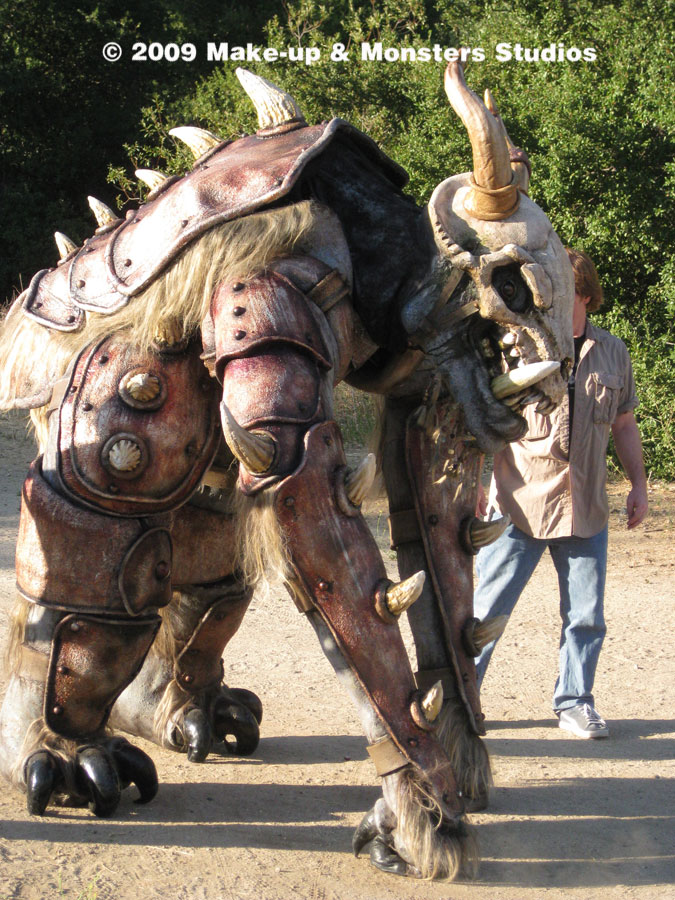 Monster!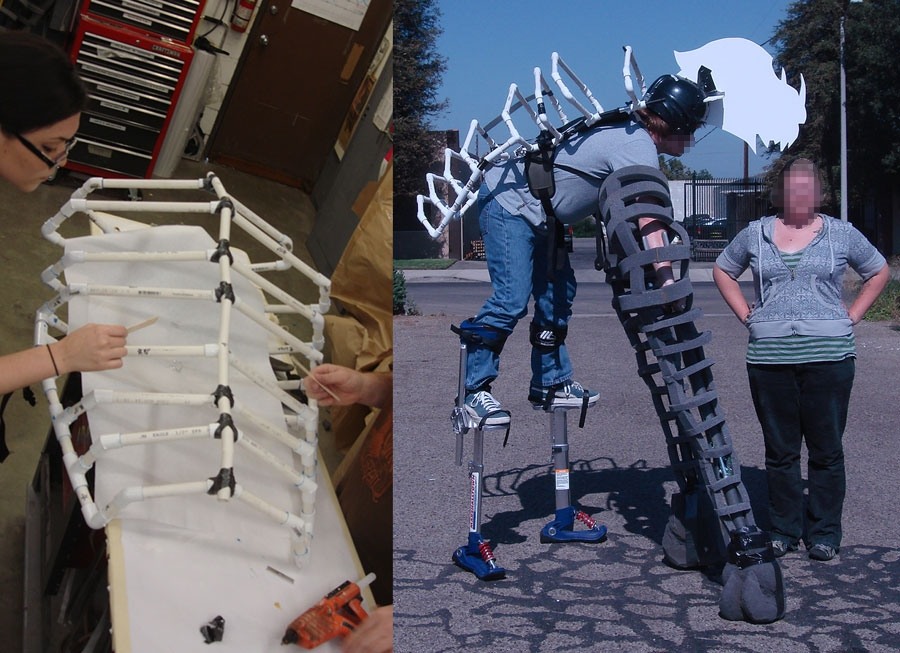 Monster inside.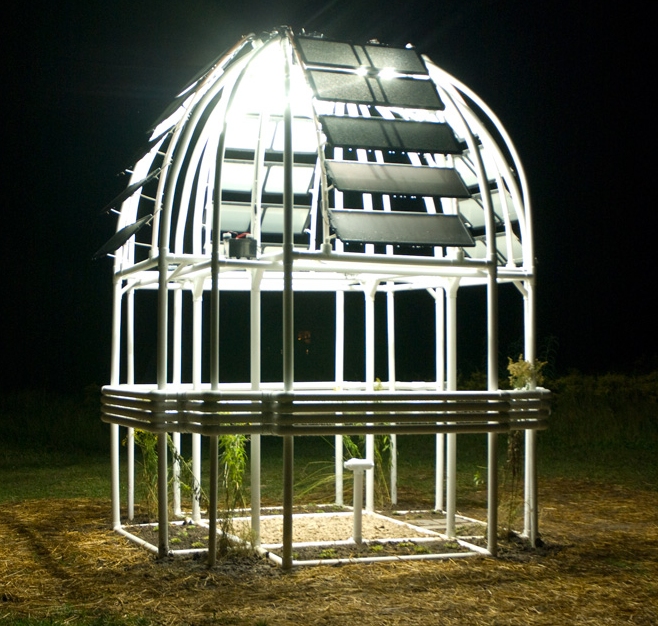 Futuristic PVC Gazebo.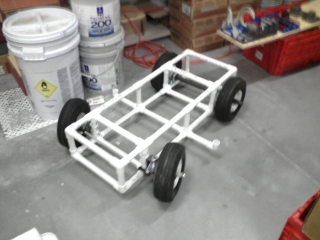 Car.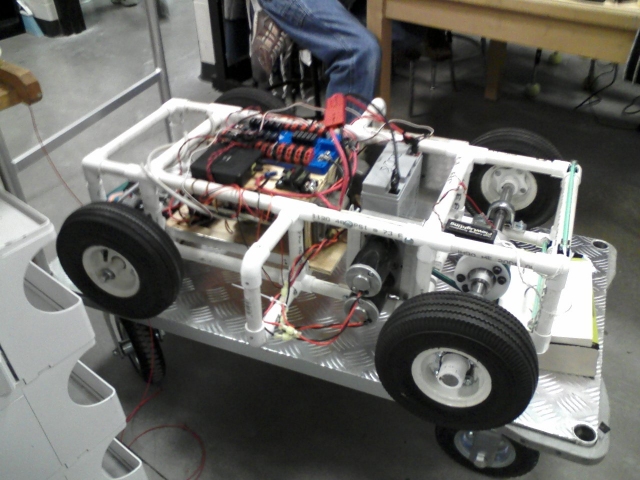 Car2.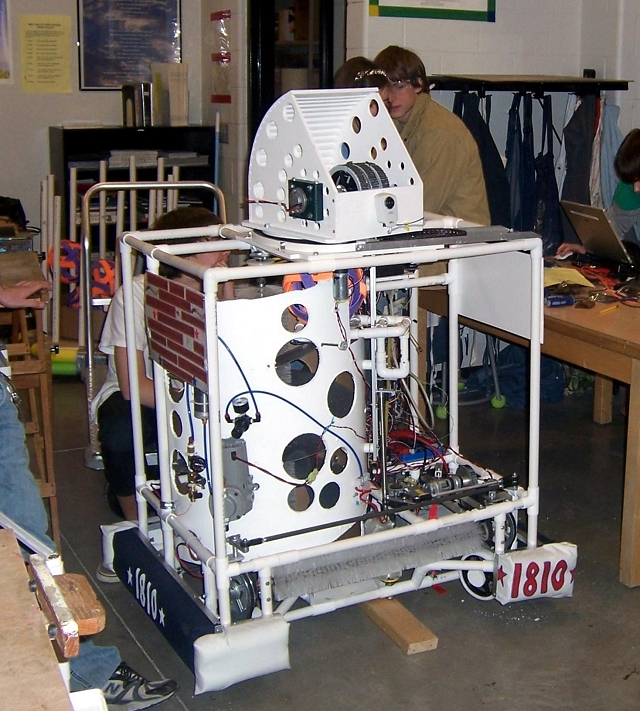 Robot.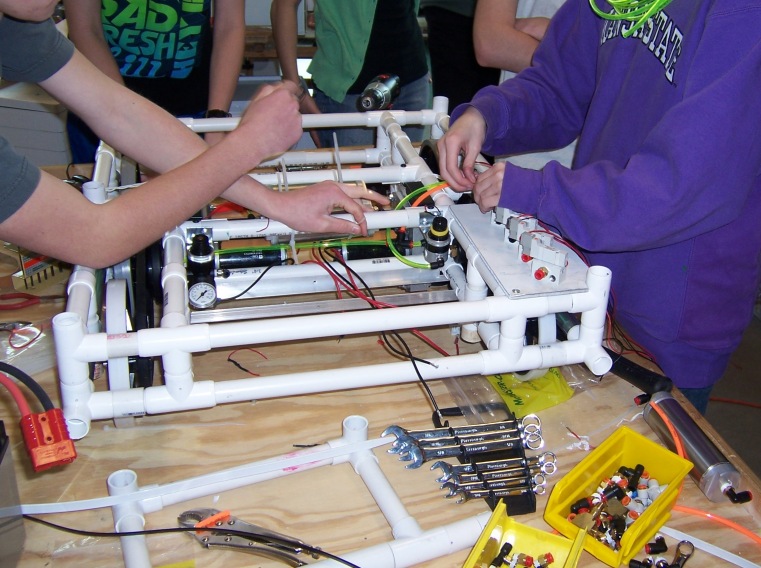 PVC Robot #2 during Construction.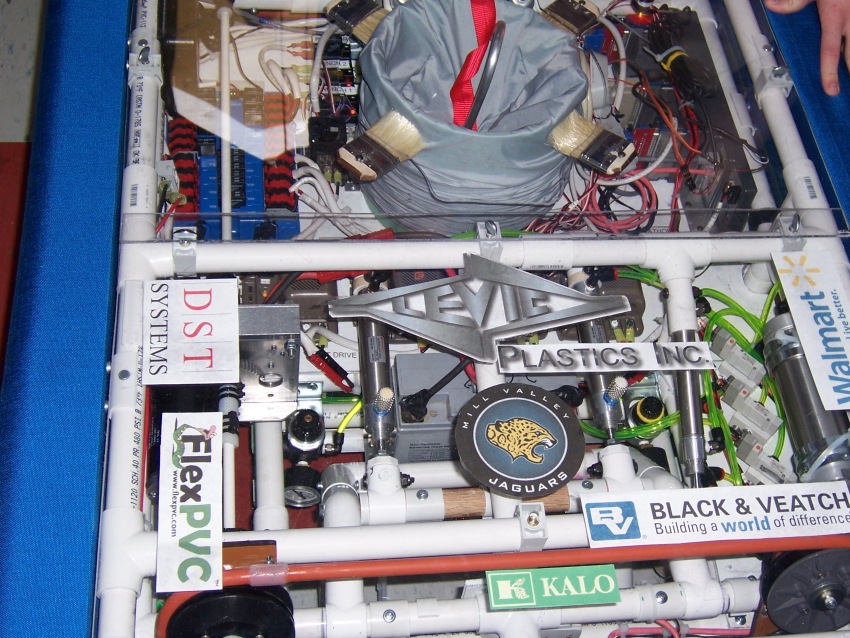 Robot 2 Closeup.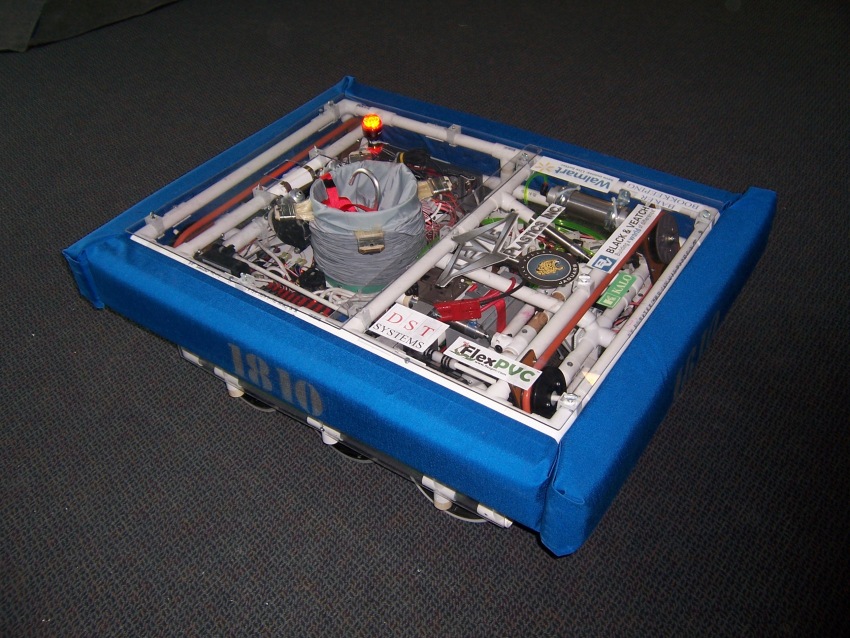 Robot 2a.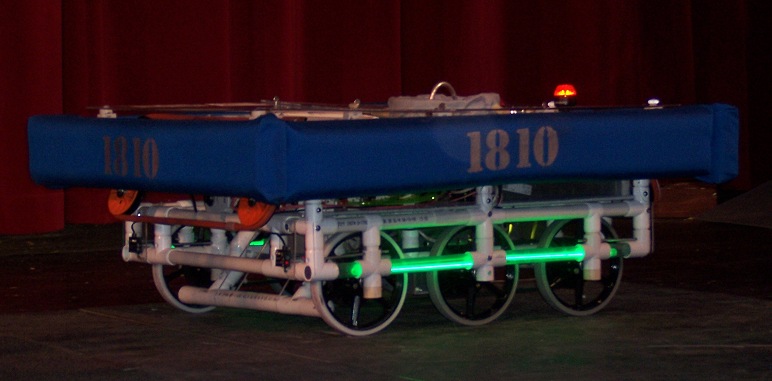 Robot 2b.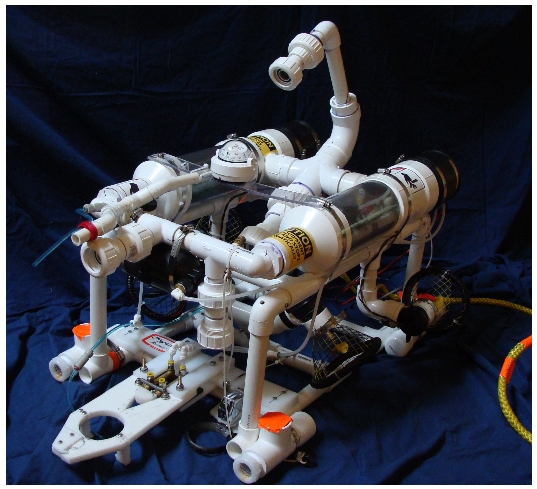 PVC Diving Robot.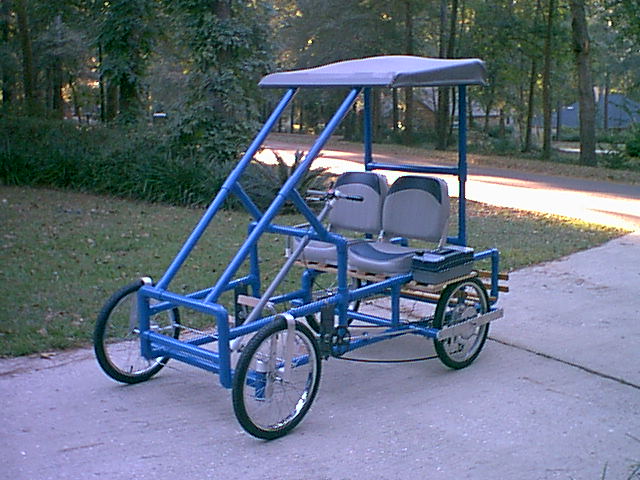 A PVC 4 wheeled bike.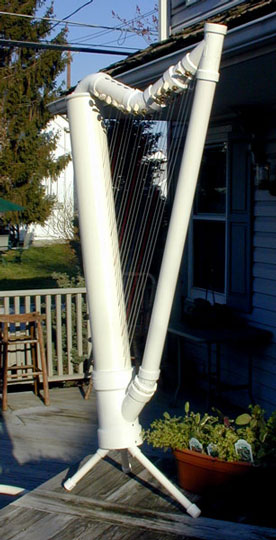 A PVC harp.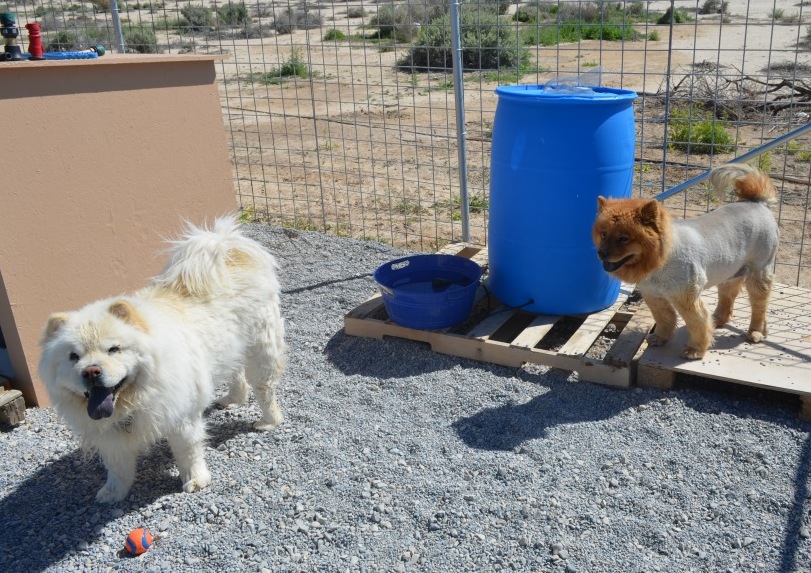 "Forever Dog Watering Dish" uses a 55 gallon drum plumbed to a inexpensive basin so the dogs never run out of water.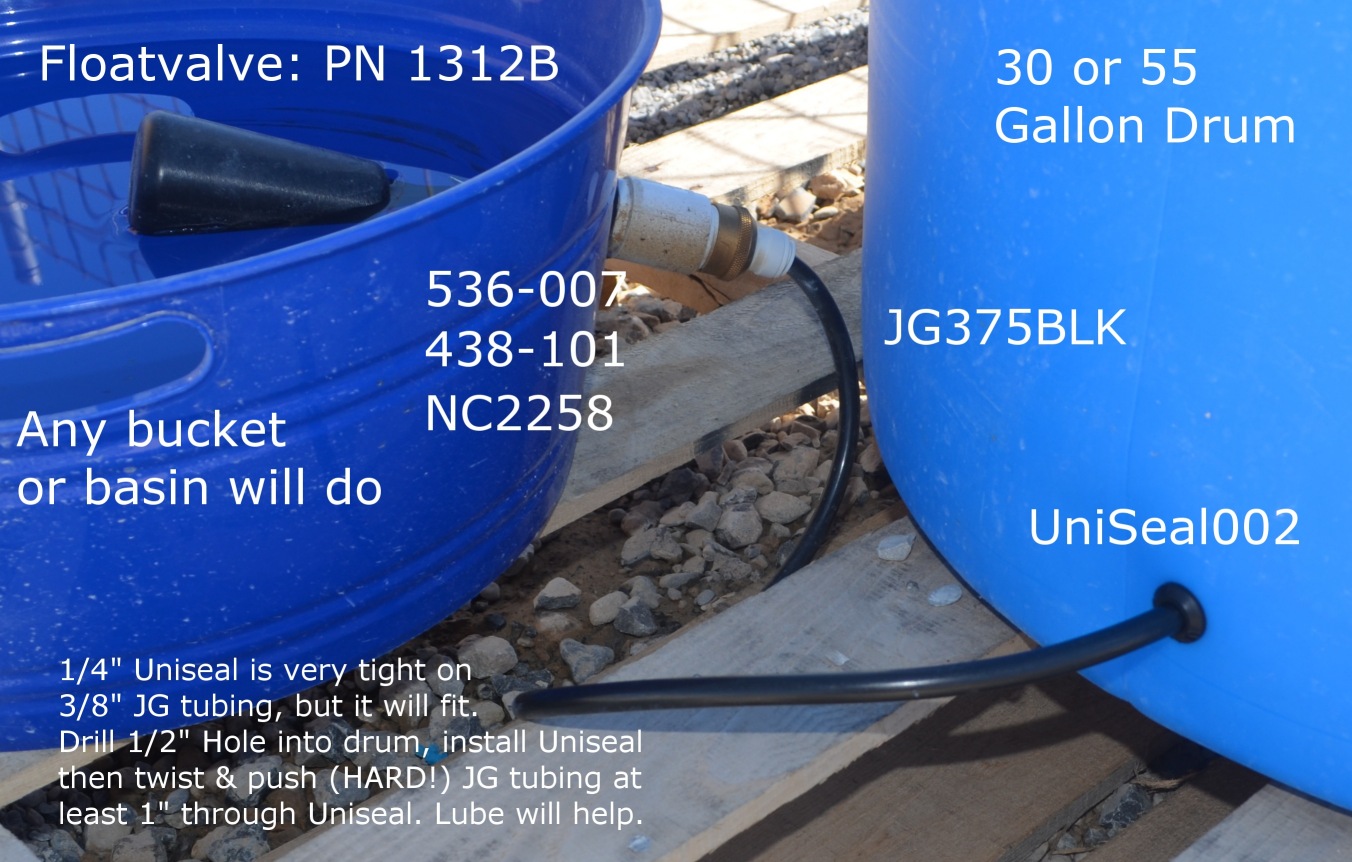 Annotated view of the parts needed to build the 'forever' dog watering bowl. Note: the plastic pail eventually failed and was replaced by a nice stainless steel one which is still in use.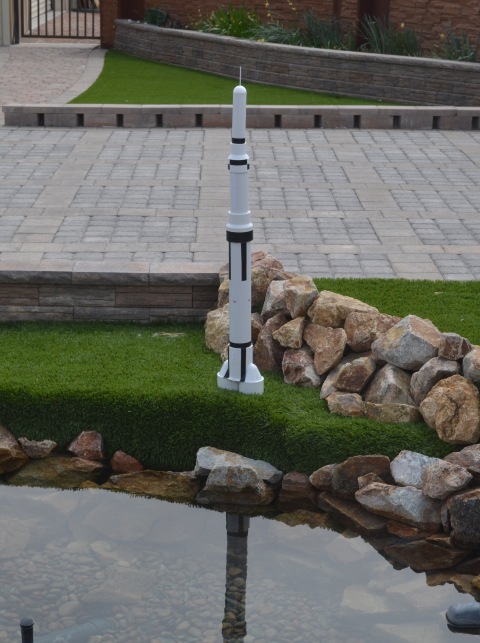 PVC Rocket (non-functional)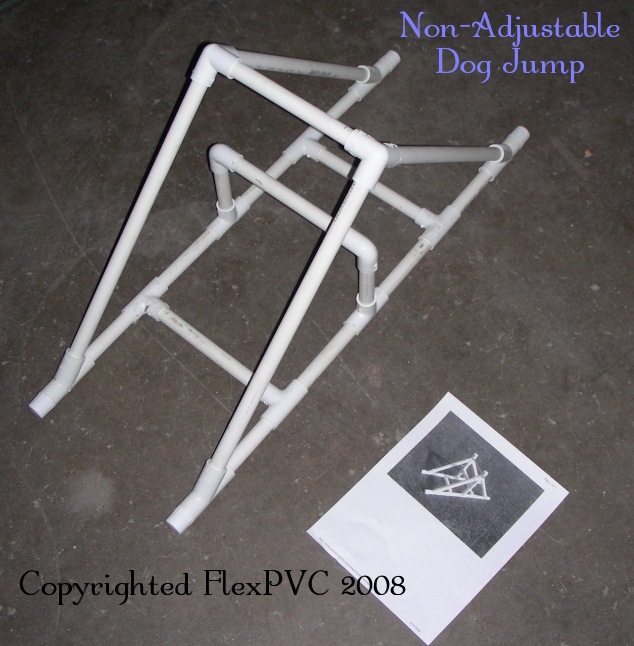 Fixed (Non-Adjustable) Dog Jump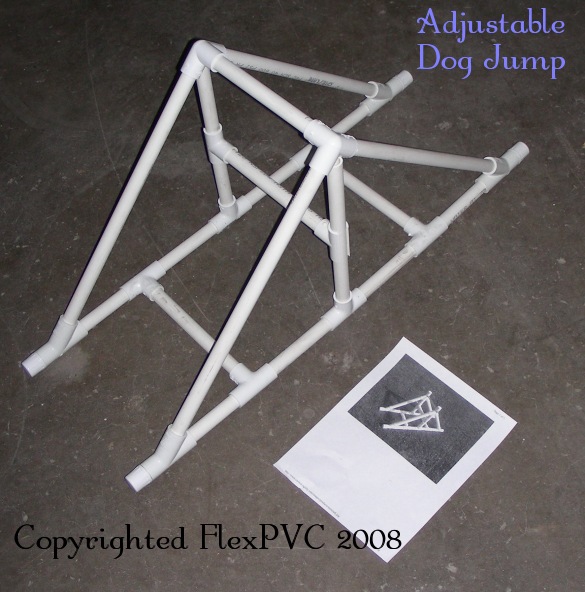 Adjustable Dog Jump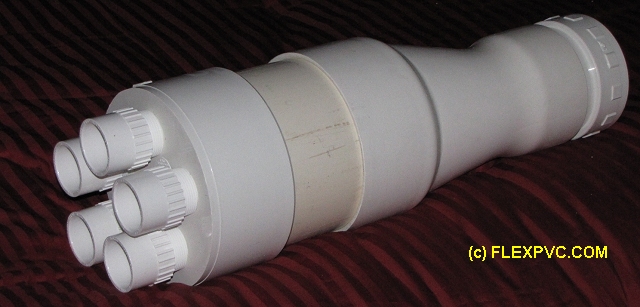 Federation Power Conduit Manifold, aka Dilithium Crystal Launcher.



All text, images, layout and design Copyright 2002 - 2023 FlexPVC ®, PVC Distributors LLC. - - - FlexPVC ® is a Registered Trademark of PVC Distributors LLC