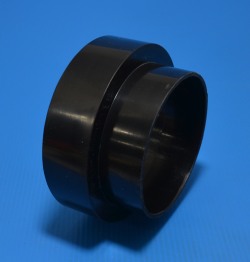 This is a black abs plastic reducer. It's 4" (OD) x 5" (OD). It is also a 3-3/4" (3.75") ID x 4-3/4" (4.75") ID with 1/8" (.125") wall. Can be used for many different purposes. Unrated fitting. Cannot be used on anything has requires a plumbing inspection. Works with hose, fittings, vacuums, dust collection, and many other projects. Overall length of adapter: About 2.9" (hand cut).

(Metric size 101.4 x 125.8mm (OD) and 95.80 x 120.2mm (ID) with 2.8mm wall.)

These are imported and the tolerances are not held very tight. Allow .05" out of round and .03" ID/OD variation.


Price: $7.89