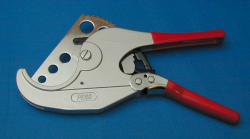 You can also rent these for $7/week. Your card will be charged the full price for the cutter, but when you return the cutter we will credit you back less $7/week. (shipping time and charges excluded.) If you decide to keep it, just keep it and we'll leave the charge as it stands.

Rental time starts when our tracking no. shows you received it and ends when your postmark or tracking shows you shipped it back. 1-7 days = 1 week ($7), 8-14 days = 2 weeks ($14), 15-21 days = 3 weeks ($21), etc.

Disclaimer: You are responsible for the cutter. If it comes back damaged due to misuse, abuse or failure to pack it properly during shipping, we will deduct any repair charges from your credit.


Price: $59.44