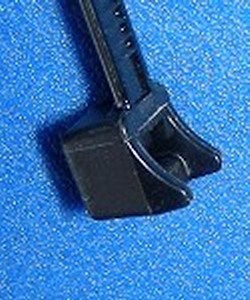 ON SALE! Emergency Use Hose Ties Clamp Cable

This is a great item. Perfect for emergencies. Everyone should have some of these hose tie wraps in their tool box, car, plane, boat, or work shop. If you have ever tried to use a tie wrap (aka, zip tie, cable tie, tywrap, etc) to secure a hose to a barb fitting you know it's almost impossible to get it tight enough to not have a leak. The reason is that cable ties have a head which is square and does not confirm to the round shape of a hose. What makes this hose cable tie different is that it has 2 little tangs under the head to press down right in the critical area.

Fits from 1/2" to 1-1/2" hose.

Note: We sell these as an "emergency" solution. While we have had many situations where these cable ties last for months, even years, we do not recommend that you rely on that. Use them to secure a hose in an emergency situation, but as soon as you can replace them with the appropriate hose clamp you should. In non-critical situations you can use these all you want and if they fail, you can just put a new one on as needed.


Price: $0.34