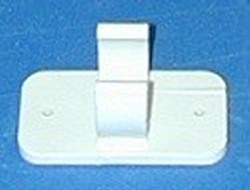 Fantastic part! Really works well. This is a mounting clamp for 1/2" pipe. Works great for attaching 1/2" pvc pipe (Sch 40, Class 200, 315, etc) to a wall or eve or anything else. They have nail holes in them, and you can just nail it in place, but a better system is using stainless truss screws. To layout you system, just snap a chalk line, line up the 2 holes in the mounting clamp to the line, run in your two screws (or nails) and repeat. After you mount them (about every 3 or 4 feet) you just snap in your 1/2" pipe. Works like a dream. :)

If you are using screws, it will be easier if you drill out the holes in the mounting tabs.

Great for use with Misting Nozzle Systems.

aka conduit strap, pipe strap, pipe clamp, conduit anchor, single hole clamps, pipe mounting brackets.


Price: $0.72
| Quantity | Discount |
| --- | --- |
| 5000+ | 31% |
| 2000-4999 | 21% |
| 500-1999 | 11% |
| 100-499 | 6% |