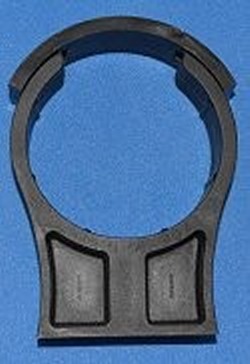 Cobra Clips, Mounting Clamp for 3" PVC pipe. (Pipe OD= 3.5") Rated for up to 150#s holding. UV resistant, suitable for outdoor use. Single screw hole down in the center. When pipe is properly snapped in place it will be spaced about 1-3/4" above the mounting surface. (Outside of pipe to mounting surface.)
Maybe disco'd item. Limited to stock on hand for the moment. Alternative to our SMC pipe mounting clamps. Formerly known as HN3clip. Made in the UK.

aka conduit strap, pipe strap, pipe clamp, conduit anchor, single hole clamps, pipe mounting brackets. Note: Sizes 1.5" and below do not have the extra securing strap. It's not needed for the smaller sizes but it is a more secure if you use it for the larger size pipes.


Price: $22.69