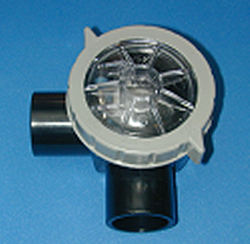 ON SALE, limited to stock on hand. 90°, Serviceable Truseal Check Valve - Hi Temp CPVC body (glues to PVC pipe fine.) 1.5" slip socket or 2" spigot fitting with clear cover lid. Features:
Flapper made of hi tech thermoplastic polymer seal.
Corrosion proof pin and stainless steel spring.
Reversible!
Lid comes off for servicing.
Deep sockets! A very high end valve. Positive seal, see-through cover. Lifetime warranty on the SEALS.
Price: $48.00