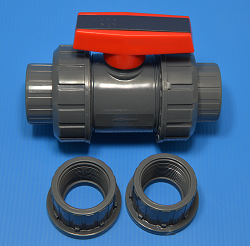 1-1/2" True Union Ball Valve, comes with both slip socket and FPT (female NPT) ends. A compact and very well made valve, however not full flow. If you need full flow, buy one size larger valve and bush down. Red handle. Easy to turn design. Test pressure 225PSI at 73F, working pressure 150PSI at 73F. Rated temperature range, 40F to 125F continuous, up to 140F for short periods. EPDM seal and O-ring.

Overall length: 7.115", Socket Depth: 1.340", therefore cut out = 4.435" for splicing into existing lines. Imported, Made in CHINA.

This is an unrated valve. For a rated valve see 1829-015.


Price: $24.15