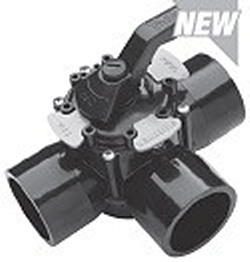 Truseal 3 way diverter valve 2.5" Slip socket or 3" spigot (3.5" OD). Never needs lubrication, uses Teflon laminated silicone for the diverter! 100% Positive seal.

Deeper glue sockets
2.5" slip socket, also 3" spigot (3.5" OD)
Comes with flow labels
Lockable position handle with "click and lock" handle to hold in any of 72 handle positions.

Made in the USA,Aka 'jandy valve' perfect for gray water systems, pools, spas, irragation, etc. Lifetime Warranty!
Price: $113.20