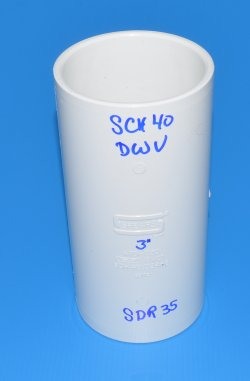 Fabricated Part. 3" IPS size (Sch 40, 80, DWV, Class 200, Class 100, etc) on one side and SDR35 3" on the other. Be sure to follow instructions. Sides will be marked but it's pretty obvious which one goes where. If you are using this to connect to ABS pipe you MUST use the multiple purpose ABS to PVC/CPVC glue. If you are connecting PVC to PVC the clear or blue pvc glue/cement will work fine.

INSTRUCTIONS:
It's best to glue the Sch 40/80 pipe (IPS size) in first. If you do not it's possible the SDR35 3" pipe will go in too far as it's OD is smaller than the stop in the middle of this couple. After the IPS size pipe is glued in, you can then glue in the SDR 35 3" pipe. But note: this couple is stepped. The first section is slightly oversize and the 2nd section will be TIGHT. Be sure to liberally use primer and glue on the pipe and in to the fitting, ALL THE WAY. (See Video #13 for why.) The SDR35 pipe should go in a min of 2" and possible all the way to 3.5" As long as you have between 2" and 3.5" engaged in the couple you will be good. It's a good idea to mark the SDR 35 3" pipe at 2" and 3.5" from the end so you will know you have the correct engagement. Let stand for 24 hours before using the system.

NOTE: SDR35 pipe is drainage pipe and NOT rated for pressure. By purchasing this part you accept all responsibility for damage, injury or death. Pressurizing non pressure rated pipe can lead to failure.


Price: $31.57