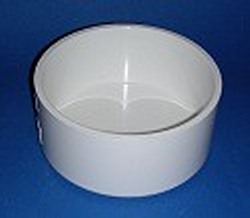 Note: This is a PIP pipe cap. PIP pipe is different from IPS pipe. (it is smaller)

280-107541 Shallow 8" Fabricated Cap. For PIP Drainage pipe only. WILL NOT FIT SCH 40 or SCH 80 or other IPS pipe sizes. Will only fit PIP pipe (OD = 8.16") PIP pipe is very rare. Confirm you have PIP pipe before you order these.

We carry these because:
They are relatively cheap.
They are very durable.
These make great dog bowls for food and water for medium dogs. PVC is about as chew proof as it gets.
These are great for holding coins and other pocket fillers.
Great for screws, bolts, nuts, washers, anything that is heavy and would break a normal plastic bowl.
Basically they hold a lot of weight and are nearly indestructible. :-)

Made in the U.S.A.
Price: $45.47