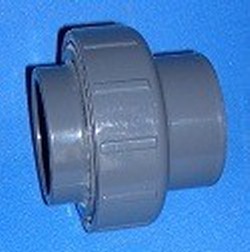 You may be able to use this part: Alternate 32mm Metric Union

657-032 Metric Union 32mm DIN x 32mm (Din standard goes based on the OD of the pipe).

SEAL:
FKM,Viton Seal good for -13F to 446F, Good for water, chlorinated water, ozone, oxygen, mineral oil, synthetic hydraulic fluids, fuels, aromatics and many organic solvents and chemicals. It has higher resistance to swell in high octane and oxygenated fuel blends. FKM is compatible with petroleum fluids (including dino and synthetic lubricants, pure gasoline, and diesel. FKM is also fully compatible with water and ethylene glycol coolants. Its high 400F operating temperature makes FKM a better choice for sealing engine, transmission, and differential oil systems.


Price: $40.90