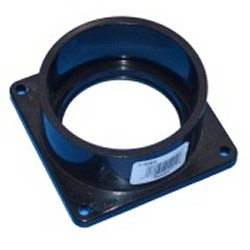 NOTE: This is a spigot fitting. ie, it glues into a fitting. It's the same size as pipe. BLACK ABS, Square Mounting Flange for 3" PVC Pipe. IF YOU WANT TO GLUE PIPE INTO IT, YOU NEED PART NUMBER Slip Socket Square Flange, 1005-3ABS BLACK or 1005-3W PVC White Square Flange. These flanges are great for mounting anchoring pipe to structures, concrete (with tapcons), decks, patios, etc.

Note: The underside of the flange has a raised ring you will need to grind or sand off if you want it to lay perfectly flat.

Important Dimensions:

Base: 4.35" Square
Height Overall: 2.38"
Height Without Ring: 2.18"
OD: 3.50"
ID: 3.0" (3" Spigot, ie pipe size)
CL to CL of bolt holes 3.71" square
Flange Thickness: Approx .25"
Imported, Made in Mexico, formerly known as 1006-3ABS.



Price: $5.49
| Quantity | Discount |
| --- | --- |
| 1000+ | 21% |
| 500-999 | 17% |
| 250-499 | 15% |
| 100-249 | 9% |
| 25-99 | 4% |