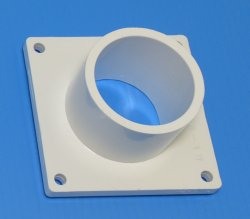 This is a Square Mounting Flange with a 1.5" Sch 40 spigot (ie, pipe size). You would mount this flange to something and then a 1.5" Sch 40 pvc pipe FITTING would glue OVER it. Perfect for something like a towel bar where you want it very close to the wall. These flanges are great for mounting anchoring pipe to structures, concrete (with tapcons), decks, patios, etc.

Note: The underside of the flange has a raised ring you will need to grind or sand off if you want it to lay perfectly flat.

Important Dimensions:

Base: 2.87" Square
Height Overall: 1.46"
Height Without Ring: 1.36"
OD: 1.900" (Spigot, same as 1.5" Pipe)
ID: 1.50" (Same as 1.5" Pipe)
Hole Size: Approx. 3/16"
Flange Thickness: Approx .25"
Imported, Made in Mexico, formerly known as 1006-1W.

PLEASE TAKE 3 MINUTES TO WATCH THIS VIDEO EXPLAINING THE DIFFERENT STYLES OF SQUARE FLANGES BEFORE ORDERING. THANK YOU!



Price: $3.97
| Quantity | Discount |
| --- | --- |
| 1000+ | 21% |
| 500-999 | 17% |
| 250-499 | 15% |
| 100-249 | 9% |
| 25-99 | 4% |