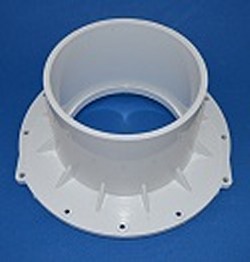 Round Mounting Flange for 6" PVC Pipe. These flanges are great for mounting anchoring pipe to structures, concrete (with tapcons), decks, patios, etc.

Note: The underside of the flange has a raised ring you will need to grind or sand off if you want it to lay perfectly flat. In the 6" flange it's about 0.30" wide 0.20" tall.

Important Dimensions:

Base: 11.032" Round
Height Overall: 5"
Socket Depth: 4.30"
Height With out flange: 4.125"
Outside Diameter of socket 7-3/16""
ID: 6.625 (Slip Socket for 6" Pipe)
CL to CL of bolt holes 10-3/8" diameter except for the 2 that are splayed.


Note: Also see 851-060 and 854-060 for other 6" flanges. Imported, Made in Mexico, formerly known as 1005-6.



Price: $96.17
| Quantity | Discount |
| --- | --- |
| 1000+ | 21% |
| 500-999 | 17% |
| 250-499 | 15% |
| 100-249 | 9% |
| 25-99 | 4% |