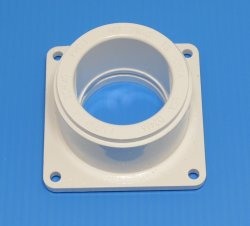 Square Mounting Flange for 1.25" PVC Pipe. These flanges are great for mounting anchoring pipe to structures, concrete (with tapcons), decks, patios, etc.

Note: The underside of the flange has a raised ring you will need to grind or sand off if you want it to lay perfectly flat.

Important Dimensions:

Base: 2.87" Square
Height Overall: 1.59"
Height Without Ring: 1.49"
OD: 2.375"
ID: 1.625" (Slip Socket for 1.25" Pipe)
CL to CL of bolt holes is 2.43" Square.
Hole Size: Approx. 3/16"
Flange Thickness: .20"
Imported, Made in Mexico.



Price: $4.44

(option file furniture.html not found)