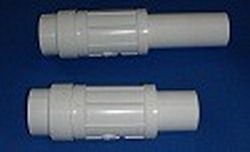 If you need to make a repair on pipe that is not easily moved, this is what you need. Telescoping couple, 2" socket by 2" spigot. Spigot end moves in and out to match up with existing pipe.

Closed Length: 9.25", Open length 12.25"

Also rotates so it can be used as a swivel joint in some applications. Saves digging up the whole pipe to make a repair. (Note: If you are connecting pipe to pipe instead of pipe to fitting, see for more telescoping couples, some of which are slip x slip.) Made in the U.S.A.


Price: $49.38