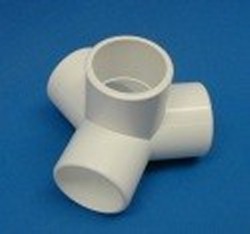 Furniture grade, (UV protected) Side outlet. Used for table bases and tops. Also other uses. Is a flow through fitting, but not a NSF rated fitting. (It'll pass fluid, but not a building inspection.) Will fit 1.25" Sch 40/80 pipe, Class 200, 315, SDR, etc. The 3 ports are at 120° to each other. The 4th port is perpendicular (at 90°s) to the plane created by the first 3 ports. Can be used for plumbing projects, but not NSF rated. (ie, nothing that has to be meet building code.)

Also makes a great DIY variation on a Hecostix*. (4 arms instead of 3). Imported, Made in Taiwan

*Hecostix™ is used under the doctrine of Nominative Fair Use in trademark law. We are not selling Hecostix. If you would like to buy a Hecostix you can via the Hecostix Inc. website. If you are trying to make a device that functions like a Hecostix you can use this part and 4 pieces of pvc pipe and 4 caps to make your own tossing/catching device.


Price: $8.76
| Quantity | Discount |
| --- | --- |
| 1500+ | 31% |
| 750-1499 | 21% |
| 200-749 | 11% |
| 50-199 | 6% |