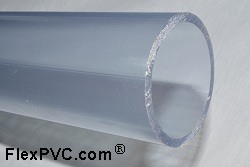 CLEAR 3" Sch 80 PVC PIPE. (2.9" ID, 3.5" OD, .30" Wall, 190PSI, Weight: 1.903#/ft)

To see the effect of the clear pipe for transparency click here

This may be a special order item, subject to stock on hand.

Price shown is per foot for less than full stick lengths. If you need full sticks (10' and 20') the price per foot drops substantially. Please email us your needs for a price quote.


Price: $48.09
Cut size:
Feet     Inches