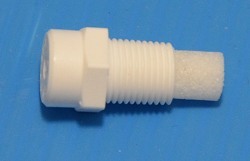 SUMMER SALE! JUST 1.49 EACH! New Version. Finer Mist, better for cooling. White Misting Nozzle. Package of 25


particles size 20-40micro
Spray angle: 80-90°
Water output: .007GPM to .015GPM (1.6-3.4liter/hr)
Water system pressure: 65PSI to 200PSI
Coverage area of each spray nozzle is 3/4 square meter.





For use with: 402-071 1/2 x 1/2 x 1/8 FPT Reducing or Misting Tees, reducer bushings to the 1/8" FPT, 438-071 and Misting Clamps. Also you might consider using a garden hose filter for your misting system.

You can run about 20-40 of these misting nozzles off our Aquatec 8800 booster pump.
Price: $41.86