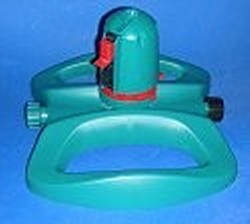 Gilmour ATR5, aka "Gort". Covers large yards, 4000 Square Feet in a round, half round, quarter round or pie shaped pattern. Adjustable sprinkler. Super easy to adjust for both rotational sweep and distance.

Pros:
Covers a large area.
About 35' radius (70' diameter) on most any water pressure.
Works with low (as little as 25psi) or high water pressure.
Adjustable for rotational sweep and distance.
Internal motor is sealed from the elements.
Very quite, only the noise of the water hitting the ground will be heard.
Lifetime Replacement Policy from Gilmour.
We are an authorized Gilmour Dealer.

Cons:
Requires a longer time to run to get the same amount of water an oscillating sprinkler would do.
Round, half round, pie shape pattern only.
Price: $35.84
| Quantity | Discount |
| --- | --- |
| 5+ | 10% |
| 4 | 8% |
| 3 | 6% |
| 2 | 4% |