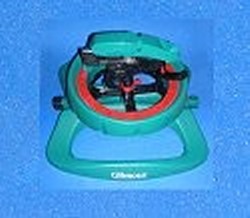 ON SALE Gilmour Pattern Master Impulse Sprinkler. Covers large yards, 5800 Square Feet in almost any pattern you can image. Adjustable sprinkler. Super easy to adjust for shape, sweep, width and distance.

Pros:
Covers a very large area.
Adjustable for irregular shaped yards.
Works with any water pressure, as low as 25psi produce acceptable results.
43' Radius (86' diameter) on higher pressures (60psi) and about 35' radius (70' diameter) on lower pressure.
Lifetime Replacement Policy from Gilmour.
We are an authorized Gilmour Dealer.



Cons:
A little noisy. Makes some sounds typical with impulse sprinklers.
Takes a little time to get the pattern just right.
Slow watering, about 3 hours for 1/4" of water.
Price: $49.27
| Quantity | Discount |
| --- | --- |
| 5+ | 10% |
| 4 | 8% |
| 3 | 6% |
| 2 | 4% |