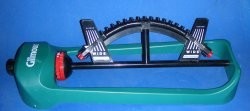 ON SALE Gilmour Pattern Master Oscillating Sprinkler. Covers large yards, 4000 Square Feet in a rectangular pattern. Adjustable sprinkler. Super easy to adjust for both sweep and width.

Pros:
Covers a large area.
Puts down a lot of water fast.
Adjustable for width and sweep.
Mostly quiet, but does make some clicking sounds.
Internal motor is sealed from the elements.
Lifetime Replacement Policy from Gilmour.
We are an authorized Gilmour Dealer.

Cons:
Requires at least 40psi water pressure, works better with more.
Square or Rectangular pattern only.
Price: $42.91
| Quantity | Discount |
| --- | --- |
| 5+ | 10% |
| 4 | 8% |
| 3 | 6% |
| 2 | 4% |