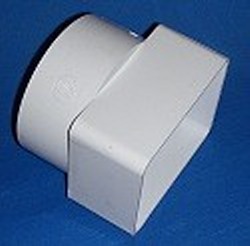 4" round for pvc pipe to 4x3 retangular pvc pipe, gutters, or downspout. (SDR35 PVC/Sch 40.) The 4" round part is a nested fitting. It will glue into a schedule 40 fitting or SDR35 4" pipe will glue into it. The Retangular part will fit standard gutter pipe. The dimensions are below.

Actual openings are:
Round part, inside: 4.24". Rectangular part inside 4.43" x 3.47"
Round part, outside: 4.47" OD, Rectangular part outside 4.76" x 3.72"
4.107" long.

For drainage, vent, etc. Not pressure rated.


Price: $9.00