8" x 10 T/I (teeth per inch) Reciprocating Saw Blade. 3/4" Width, .035" thickness. For Composite materials, plastic, PVC, ABS, and aluminum.


HRc 67 Hardness.
Computer designed tooth; Cuts faster and lasts longer.
Made in the USA; Keep American Jobs
Cobalt BiMetal Steel Blade; Fantastic wear resistance.
Professional Grade Blade; Made for people who earn their living cutting things.
Shatter resistant; safer blade. High allow steel body bends before it breaks.

Cross Reference: Bosche N/A, Milwaukee N/A, Lenox N/A,B&D N/A, ULB Industries N/A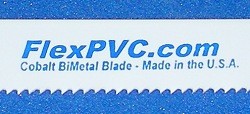 Price: $4.37