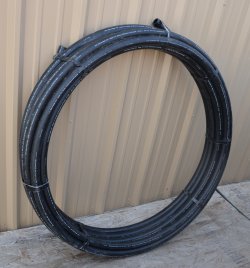 Roll of HDPE 250PSI, Potable Water rated, 1.50" CTS sized (1.25" ID, 1.625" OD) flexible hose/tubing. Ships via truck freight.

NOTE: This product comes in a roll and is "flexible" but it is nothing like our FlexPVC flexible pvc pipe. It's stiff, something like PEX, but much larger. Once it rolls out it can be manipulated into position but it's not "flexible" like what some of our other products are. Also it uses compression fittings for the connections.

Roll Dimensions 58" x58" x 7"


Price: $268.30