Flexible PVC Pipe & PVC Pipe Fittings, Unions, Bulkhead fittings, furniture fittings, ball valves, check valves, gate valves, garden hose fittings, manifolds & distributors, wyes, PVC Pipe and lots more.

Look for the lock or key on the checkout page
1-888-PVC-FLEX

This is TOLL FREE 1-888-782-3539 for technical support questions and customer support only. All orders must be placed on the website. (Click here if you don't want to put your card number online or want to purchase by check or money orders.) You can click here to email customer support as well. Please read the FAQ and yellow TECH HELP box before you call, email or order because most questions are already answered there. All "Requests For Quotes" for over 5000 fittings or 2000' of flex pvc should be emailed to us. For smaller orders, just use the website. Tech Support phone hours are 10am to 4pm PST, Monday-Friday.

NOTICE: If you are using Microsoft Internet Explorer (MSIE) 8, 9, or 10 you MUST use "compatibility view." Along the top where it says "File" "Edit" "View" "Favorites" "Tools" "Help" click on "Tools" and look for "Compatibility View." There should be a check mark next to it. If there is not click on it once to enable it and then verify it's checked. This is an issue with the MS updated browser. Thank you!
To see shipping charges, add the items to your cart.
To add items to your cart, enter the number of items you want in the box and then click on the blue 'add to cart' button.
To change quantities, click on 'view cart', then change the number in the box next to the item and click on the 'update quantity' button (under the totals) before you check out for it to take effect. Thank you!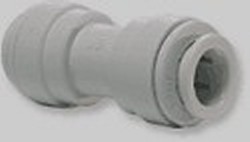 John Guest push in fittings & Polyethylene Tubing